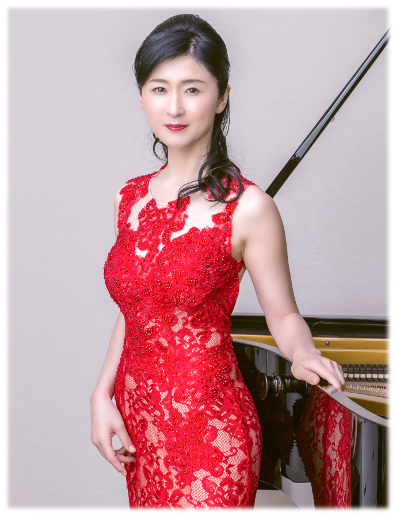 SACHIKO SUGA
Born in Tokyo, Japan, Sachiko Suga started playing piano at the age of three attending the Kunitachi Music Kindergarten. In 1992 she entered Toho Gakuen College of Drama and Music. Her interest in both solo and chamber music brought her to Germany to further pursue her music studies. Her initial studies in Germany were at the Musikhochschule Luebeck(Luebeck University of Music) with Professor Konrad Elser, and she received the highest grade for piano performance and accompaniment. Further studies at the Hochschule fuer Musik und Theater Rostock (University of Music and Theater Rostock ) with Professor Matthias Kirschnereit were completed with "distinction" in the Piano Soloist Certification Examination.
In 1999, Ms.Suga had her debut solo recital in Tokyo Opera City Recital Hall. This was followed by concerts in Japan, Germany, New York, Italy, France, Czech Republic, Portugal, and Austria. A pianist who possesses rich layers of expression, dramatic and gorgeous sound. When she appeared as a concerto soloist in North Germany, "Norddeutsche Neueste Nachrichten(newspaper distributed in Rostock)" praised her as "the most blessed pianist."
Ms. Suga was one of the top semi-finalists at the 12th Asia Classic Music Concert and Professional Division Chopin Competition in Asia. She was awarded third place (Bronze Medal) among the competitors. She was also invited to the Schleswig Holstein Music Festival in Germany. This performance was widely appreciated and earned positive reviews, which were published in major newspapers.
As a concerto soloist Sachiko Suga enjoys performing with orchestras and other musicians. She is currently a member of the Japan Federation of Musicians. On the side, she writes book reviews that make a contribution to "ONGAKUGENDAI"(Contemporary Music Magazine) as a musical journalist.